Vivienne Westwood: Designers on her influence and legacy
Since then, names from within and beyond the industry have been remembering the 81-year-old who went from pioneering punk fashion in the mid-1970s to dressing some of the biggest stars.
Westwood's admirers span generations – but they all have one thing in common: their admiration for her and the clothes she made.
'She turned swinging London into punk London'
Dame Zandra Rhodes, a fashion and textiles giant in the UK, says she was surprised by the news of Westwood's death – particularly because she had not expected to outlive the designer.
The 82 year old credited Westwood with "revitalising street fashion" and turning it into something "totally different".
"We'd had flower power… then suddenly you had this very hard-hitting punk," Rhodes said of Westwood's entrance onto the fashion scene.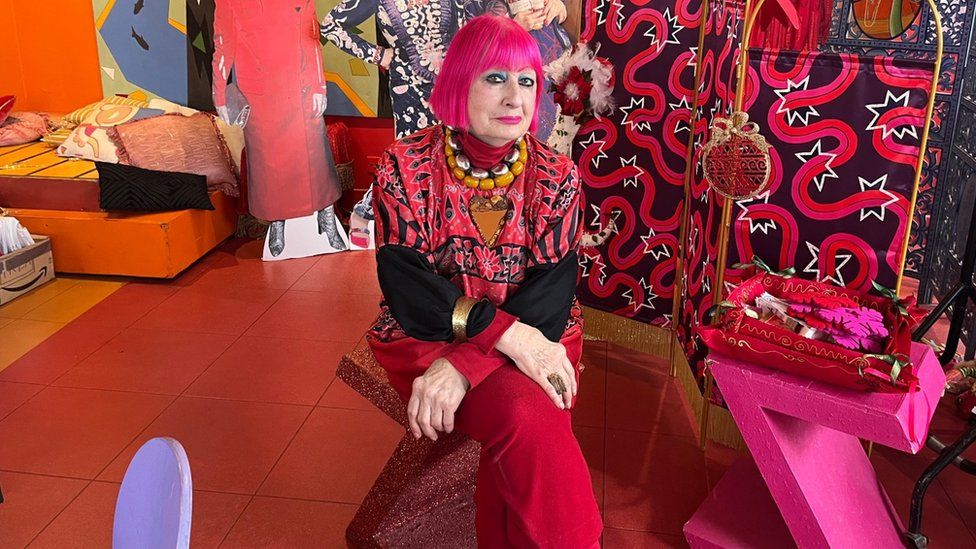 The 60s and 70s were "incredibly vibrant times," she recalled, saying Westwood would be remembered for starting a "revolution that turned swinging London into punk London".
"She was always strongly on the ball," Rhodes said, adding that with the clothes came Westwood's activism.
"I hope when I disappear, I'll be thought of as fighting for what I believed in," she said.
While the pair largely saw eye-to-eye and have often been compared to one another, Rhodes, clad with her trademark pink hair. said there were times they did not agree.
"We did have somewhat of a clash at one point," she said, "when I was doing chic punk and she used to say 'That's not punk, with those jewelled safety pins'."
Westwood stayed hard and punchy until the end, Rhodes added. "She never minced her words."
'Vivienne was my inspiration'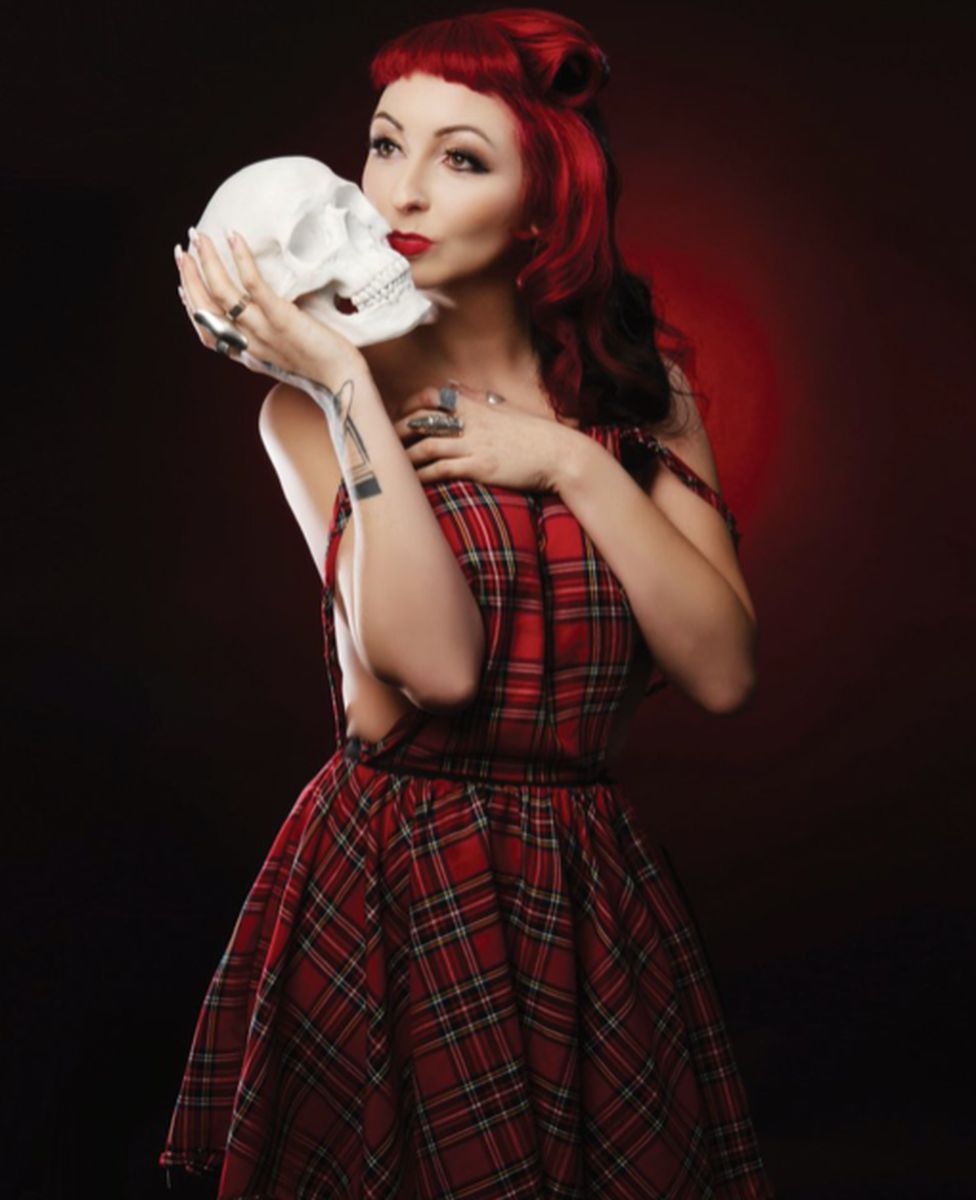 Leesa Bertram, a Manchester-based fashion designer, wanted to be in the industry since the age of four.
"When Vivienne, a fellow northern girl, made it, she became my inspiration," Bertram told BBC News.
"I loved everything about her – especially the fact she didn't care what people thought," she said, recalling a time she watched Westwood live in conversation.
Bertram, 42, founded her online clothing company Pretty Disturbia in 2008, which sells affordable, punk-inspired pieces.
"It's a nod to her – the tartan, the punky skulls – it's everything she was about."
Bertram's designs include skull-embellished crop tops to tartan baby grows.
"From the moment I decided to set the business up, I knew I wanted it to be inspired by Vivienne," she said, "just at a cheaper price point".
Remembering Derbyshire-born Westwood as an "inspirational person", Bertram joked she would "always be carrying a bit of Viv" with her, referring to the fact she has the designer's famous logo tattooed on one of her hands.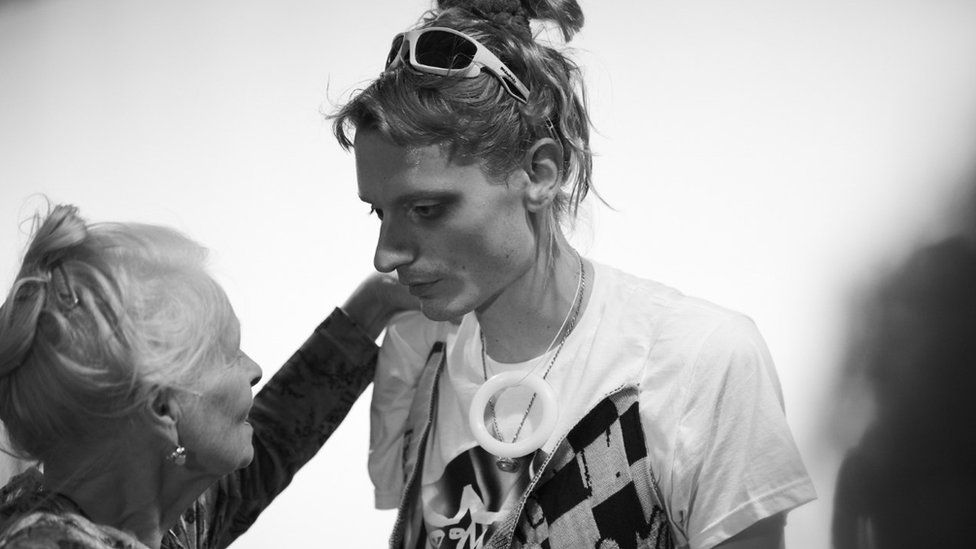 Fashion designer Matty Bovan first discovered Westwood as a teenager when he spotted her work in an issue of fashion magazine Vogue. Her impression on him would go on to be profound.
"When I first saw Vivienne's clothes in real life it was in her shop in Liverpool, and I had never ever seen such fabrics and shapes until that day," says the 32-year-old based in York. "She changed my life."
Inspired by Westwood, Bovan went on to study at renowned London fashion school Central Saint Martins and now designs clothes worn by the likes of Naomi Campbell and Rita Ora.
Describing Westwood's allure, Matty explains: "She rewrote the whole book of what modern fashion is, from everything to the cutting, to the use of sportswear, to all the historical references, to all the English textiles and craft.
"Without her the world of modern fashion would look entirely different."
He added: "When you see a Vivienne Westwood piece, it's something you never knew you wanted, and that's such a rare gift. "
Matty, who had Westwood watch his Milan fashion show, added he was "heartbroken" at her death but says her legacy will live on.