Grammys 2023: The ceremony in pictures
The 65th annual Grammy Awards took place in downtown Los Angeles on Sunday evening.
Here's how the action unfolded.
The awards kicked off with an explosive performance from Puerto Rican singer and rapper Bad Bunny (pictured above), which – set against a tropical background – featured pyrotechnics and scores of Latino dancers.
It got the star-studded audience, including Taylor Swift, up on their feet.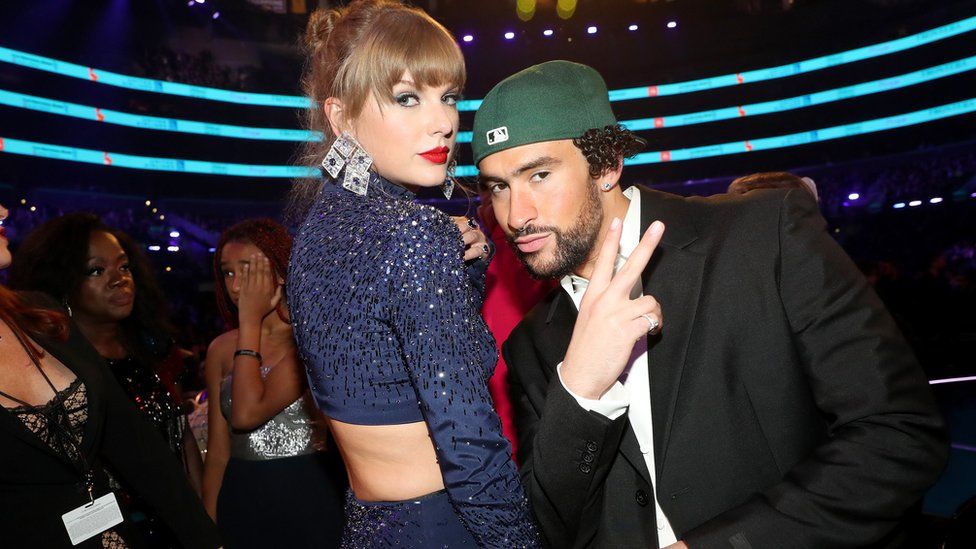 "Thank you so much. This album, from start to finish, has been the greatest experience of my life," said the star on stage.
His album, Un Verano Sin Ti, went on to win the award for best Música Urbana album; and Bad Bunny went on to pose with fellow Grammy-winner Taylor Swift.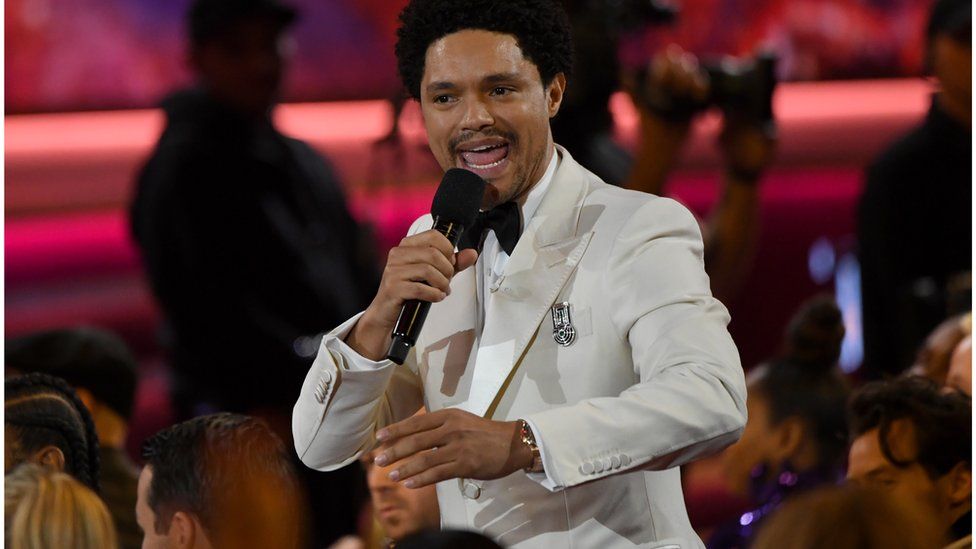 Referring to Bad Bunny's opening number, host and comedian Trevor Noah joked: "That album is so fire it makes [Donald] Trump want to learn Spanish."
He also poked fun at Harry Styles' fashion sense, joking: "Women throw their panties at this man, then he puts them on and looks better in them."
Noah went on to formally introduce another pop superstar, Adele, to one of her biggest fans (quite literally in this instance) in the form of actor Dwayne 'The Rock' Johnson.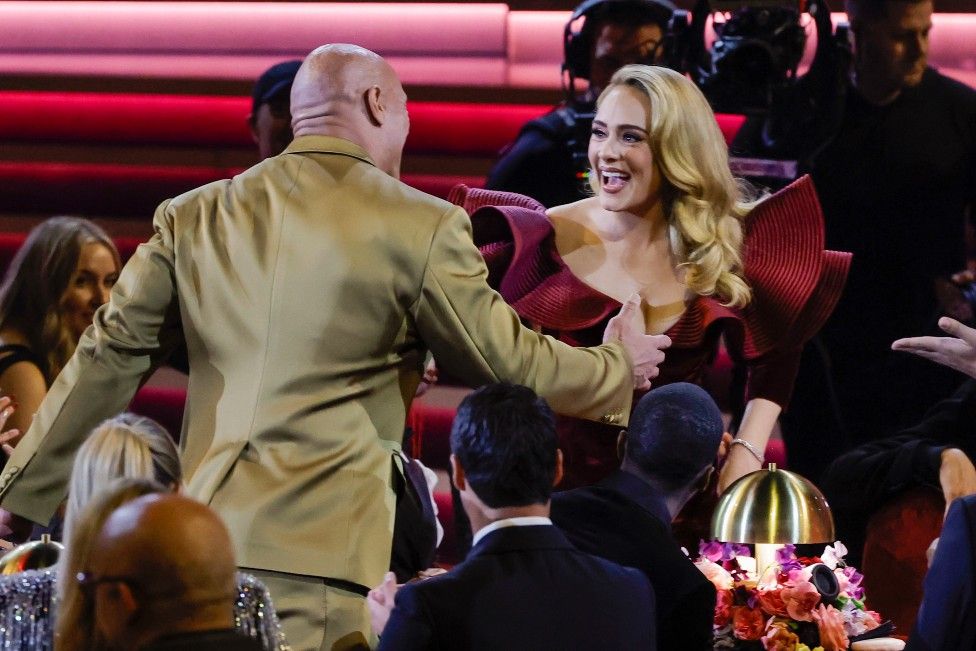 "Adele meet The Rock, The Rock meet Adele," said Noah, drawing laughter from the audience, as the two shared a rather cute if not slightly embarrassing impromptu embrace.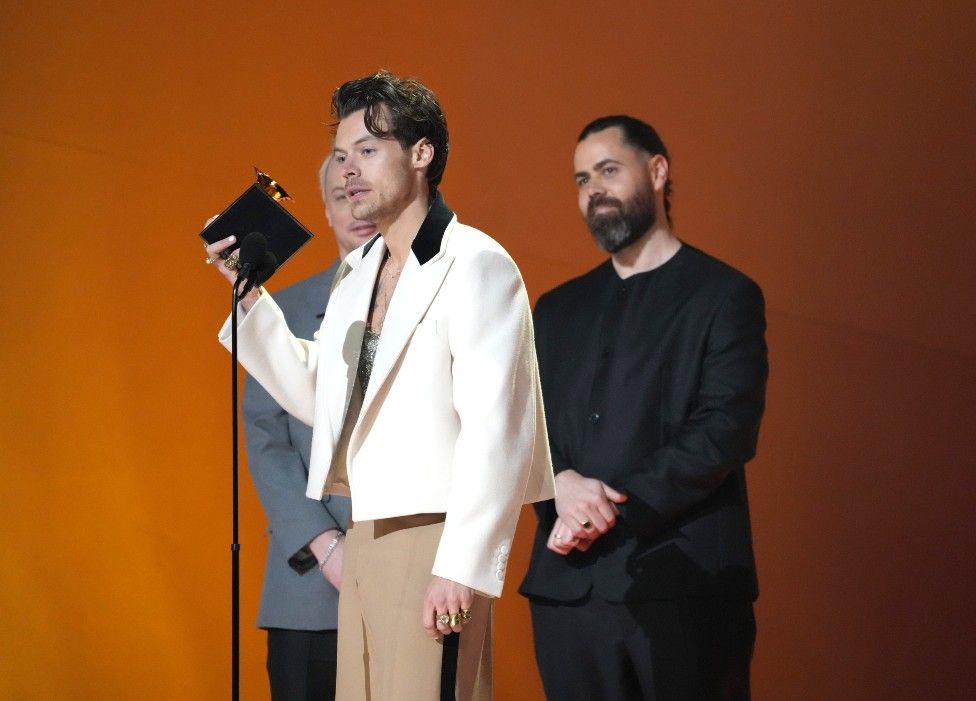 Harry Styles scooped the first major gong of night – best pop vocal album for his latest LP Harry's House.
"This album from start to finish has been the greatest experience of my life. Thank you so much," said the British star, accepting the award from Jennifer Lopez.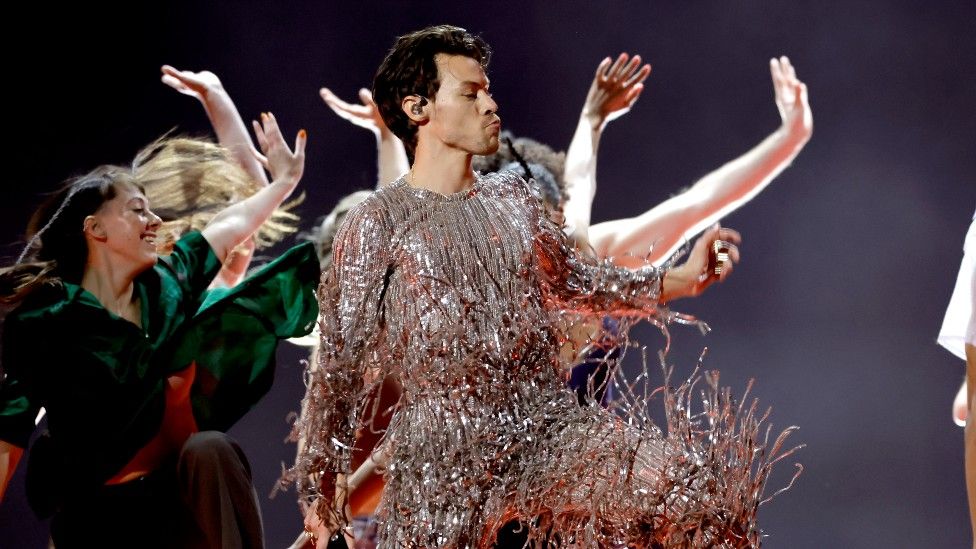 Styles later took to the stage for an energetic performance of his double-Grammy nominated track As It Was.
Wearing a long tasselled silver shirt and matching trousers, he shimmered as he charged around the stage, joined by a troupe of dancers on a rotating platform.
His night was capped by being handed the coveted album of the year award by a septugenarian super-fan.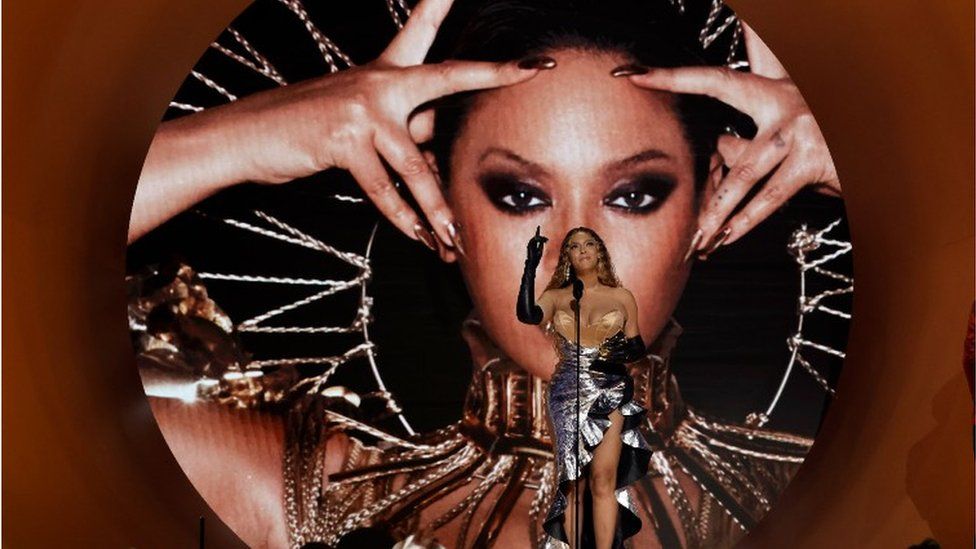 Beyoncé then tied with conductor Georg Solti as the most decorated artist in Grammys history, after winning best R&B song for Cuff It.
She was not on hand to collect the award in person, after getting stuck in traffic. But she did arrive in time to collect her next award for best best dance/electronic music album.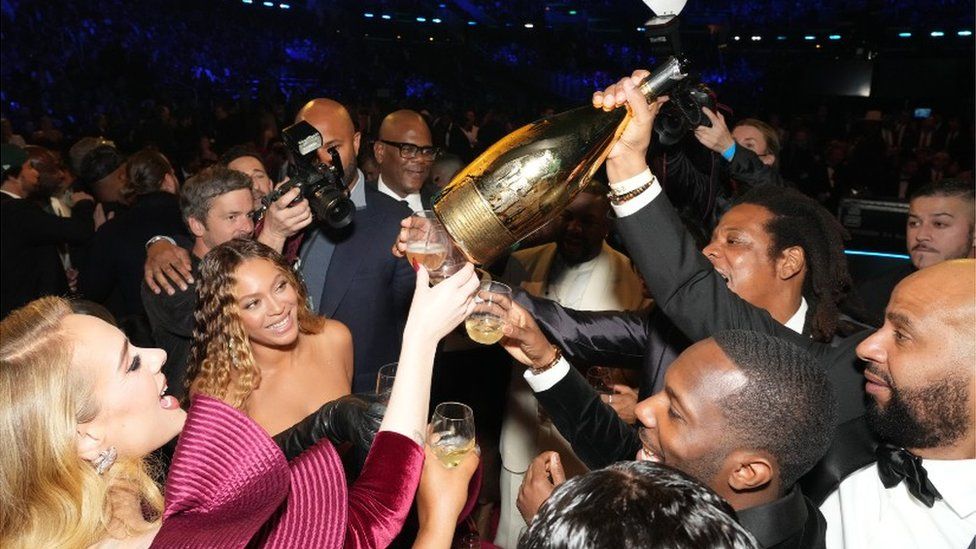 The win made her the most decorated Grammys artist of all time, with 32.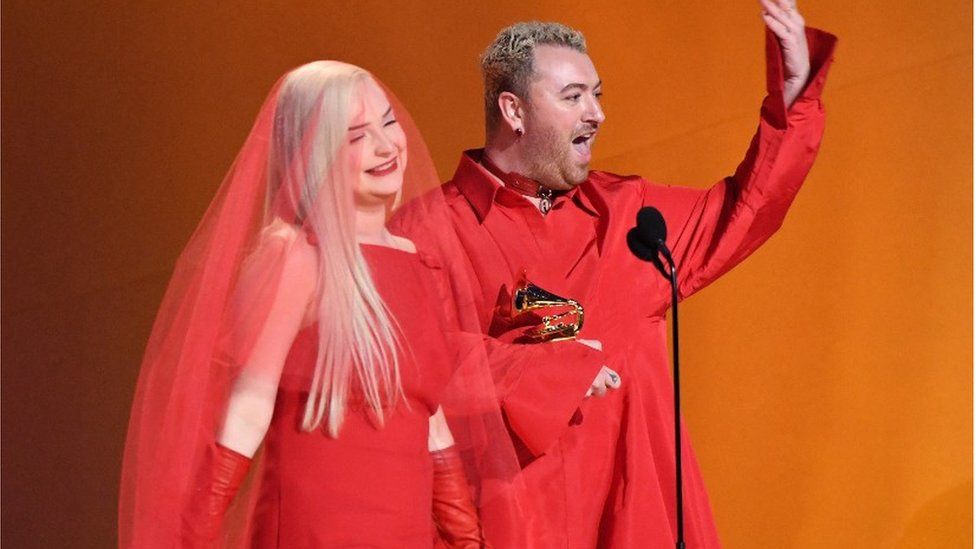 Another British star, Sam Smith, shifted the spotlight onto their collaborator Kim Petras after she became the first transgender woman to win a Grammy.
The pair took home best pop duo/group performance, for their erotically-charged track Unholy – which they later performed on a devilishly flame-filled stage.
"Sam, I love you so much and this song has been such an incredible journey for me," said the German singer.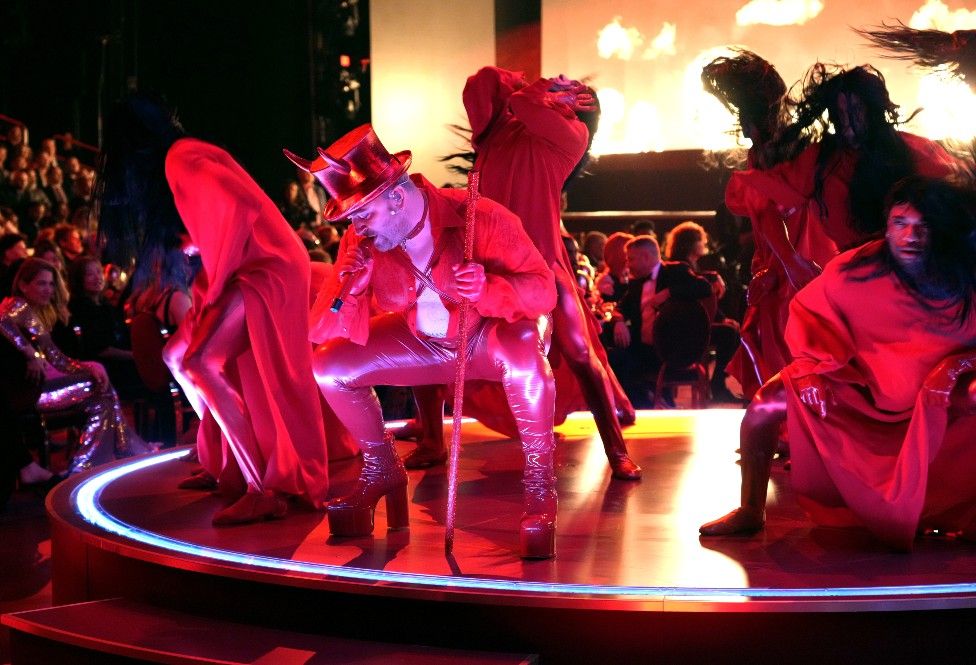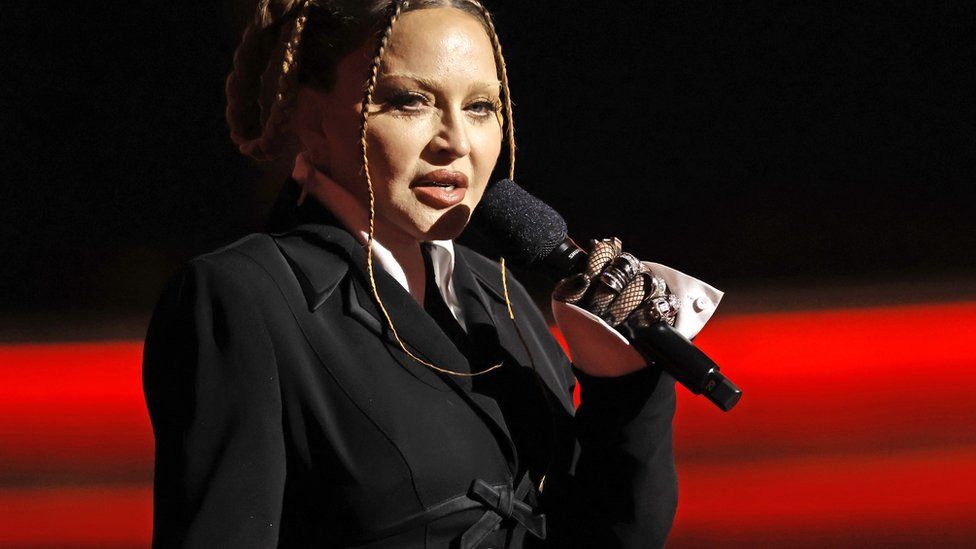 She went on to thank the "transgender legends" who had "kicked open the doors", as well as Madonna – who introduced them on stage – and her own mother.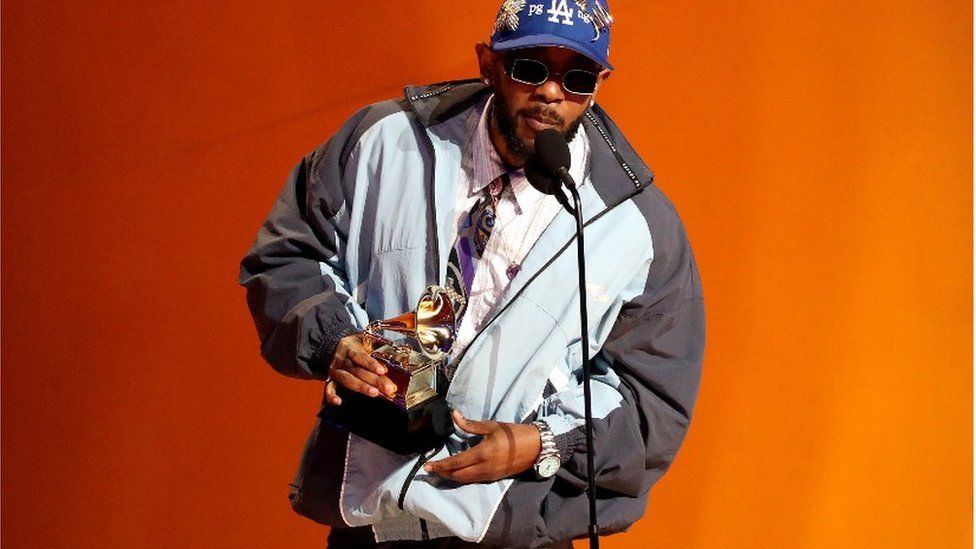 Kendrick Lamar thanked his family too after winning the Grammy for best rap album, for Mr Morale & The Big Steppers."
First and foremost I want to thank my family for giving me the courage and vulnerability to share my truth with this album," he said, accepting the award.
He went on to thank his fans too for "trusting me with these stories", describing it as "one of the toughest records" he had made.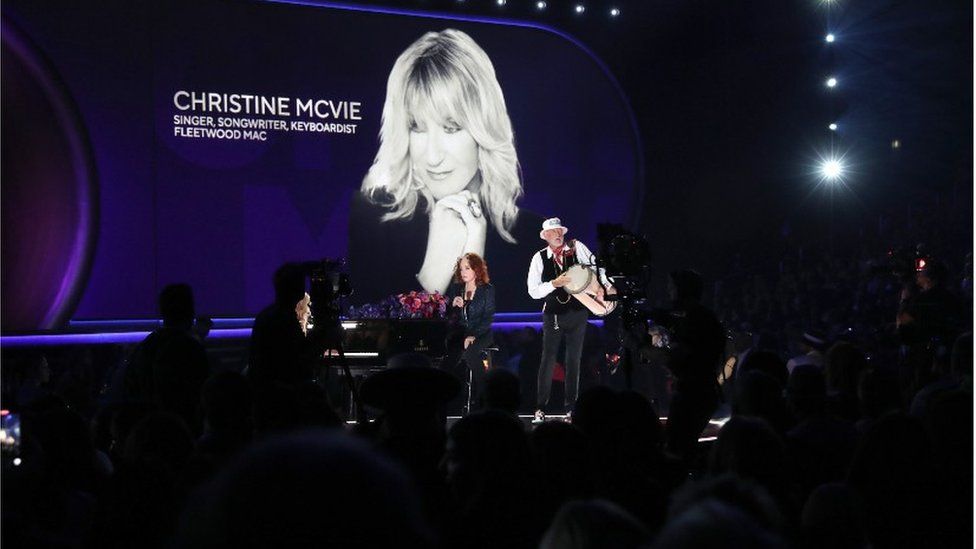 After Shania Twain accepted the award for best country album on behalf of 89-year-old absentee Willie Nelson, the Grammys remembered some of the famous faces we lost over the past 12 months – including Fleetwood Mac star Christine McVie, guitarist Jeff Beck and Migos rapper Takeoff.
The soundtrack to the emotional on-screen tribute was provided by Kacey Musgraves, Mick Fleetwood and Sheryl Crow, as well as Takeoff's uncle Quavo.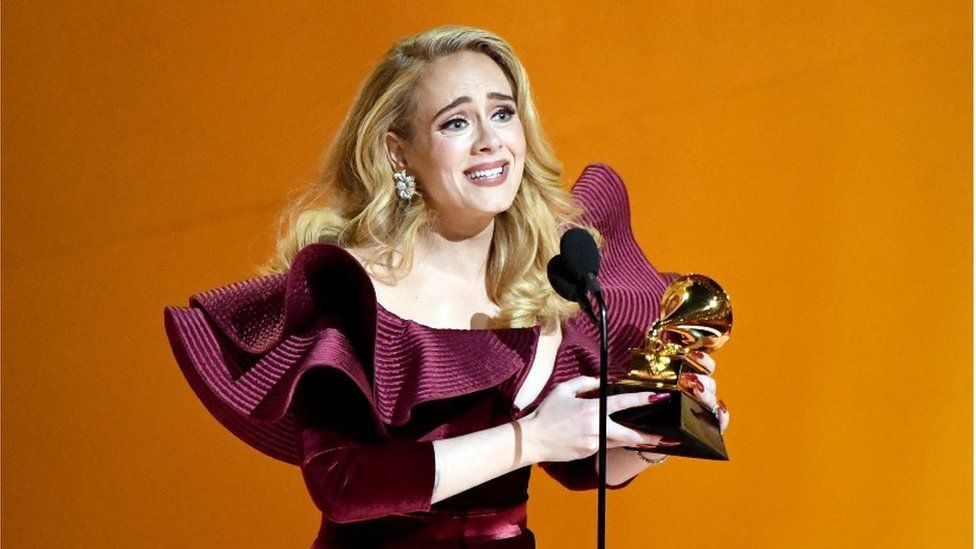 Adele got emotional as she won the award for best pop solo performance, honouring her hit song Easy On Me.
"Well thank you. I really was just looking forward to coming tonight," said the singer, after accepting the award from her new "best friend" Dwayne Johnson.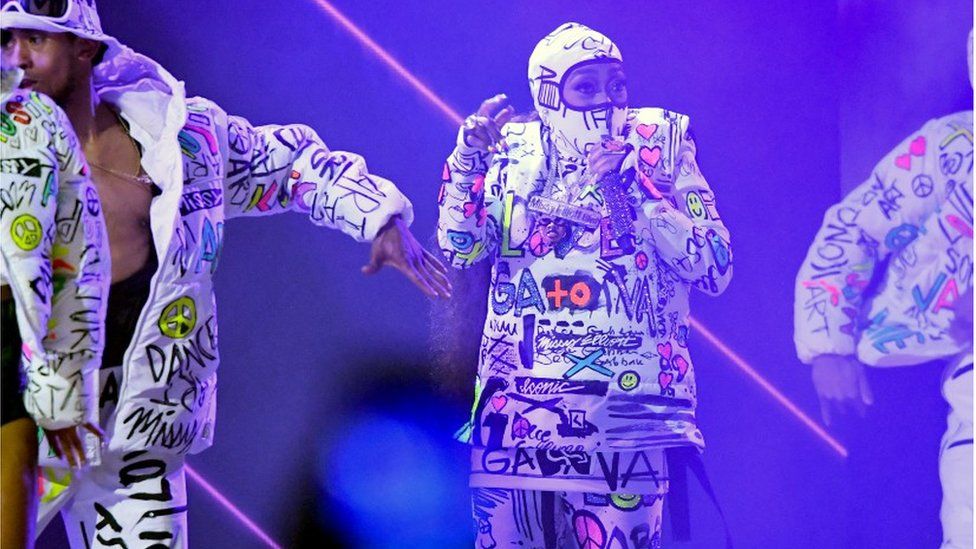 The biggest live performance of the night came courtesy of Missy Elliot, Busta Rhymes, Grandmaster Flash and dozens of other figures from the rap world, who combined on stage to herald the 50-year history of hip-hop.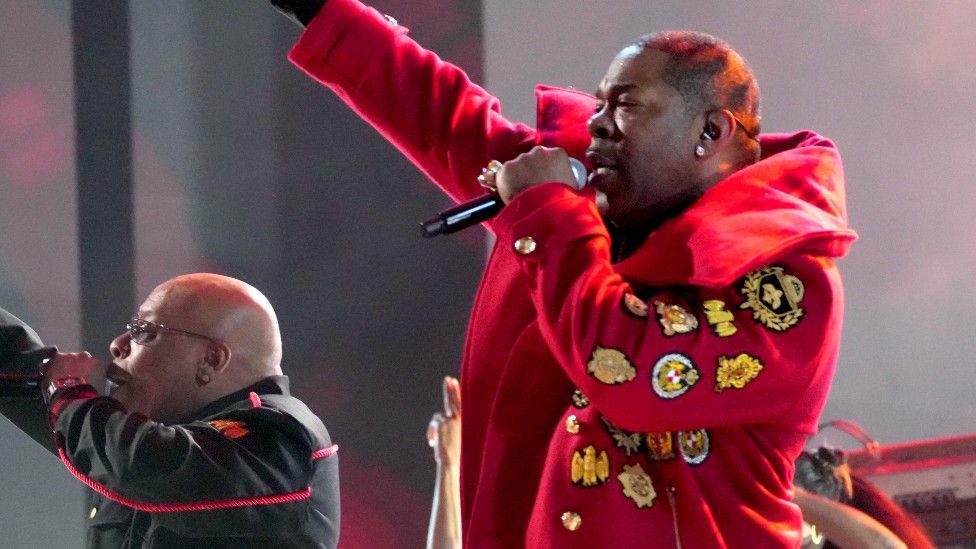 The special segment, which charted the evolution of the genre from its roots in New York City to the most popular genre in the world, was clearly appreciated by the likes of Adele, Jay-Z and Lizzo, who rapped along from the front rows.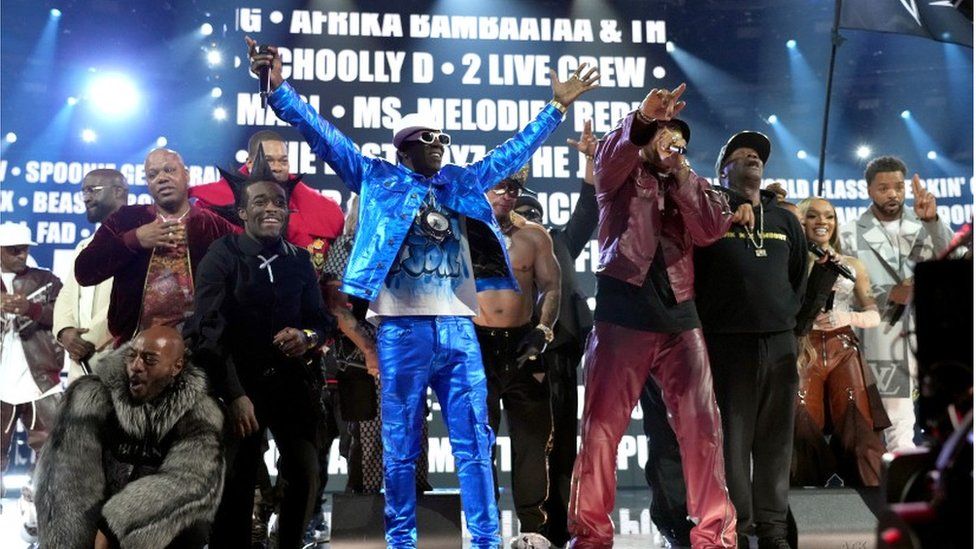 After winning the award for record of the year, for About Damn Time, US singer Lizzo singled out Beyoncé for having "changed my life".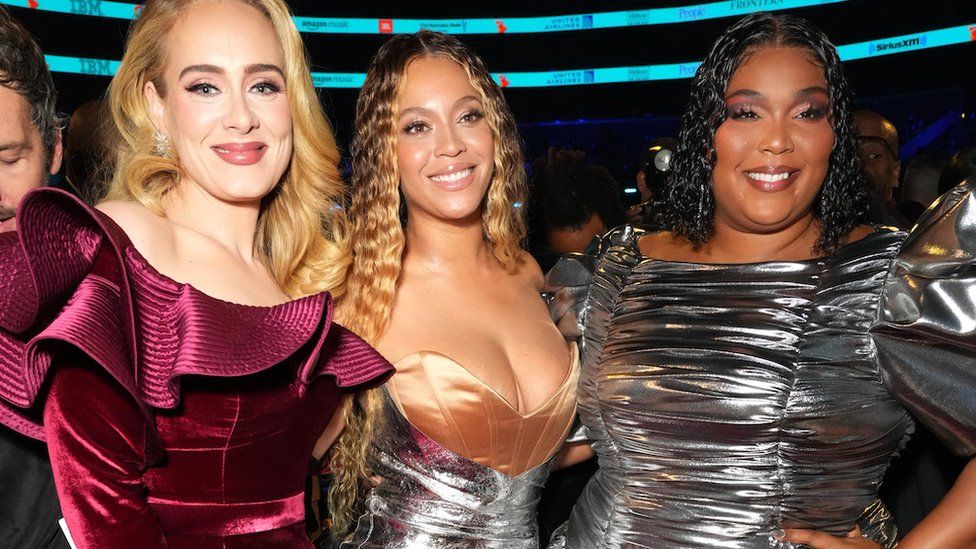 Addressing the star directly, Lizzo said she had once skipped school to watch her perform.
"The way you made me feel," she said, "I wanted to make people feel the same way with my music."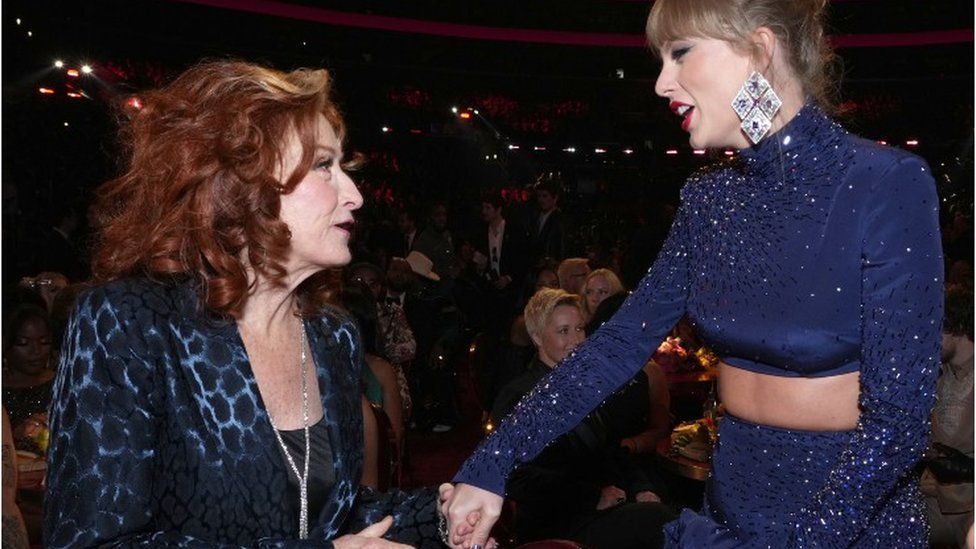 Country, blues and folk singer Bonnie Raitt won the song of the year award, for her track, Just Like That.
"I'm so surprised," said the 73-year-old. "I don't know what to say. This is just an unreal moment."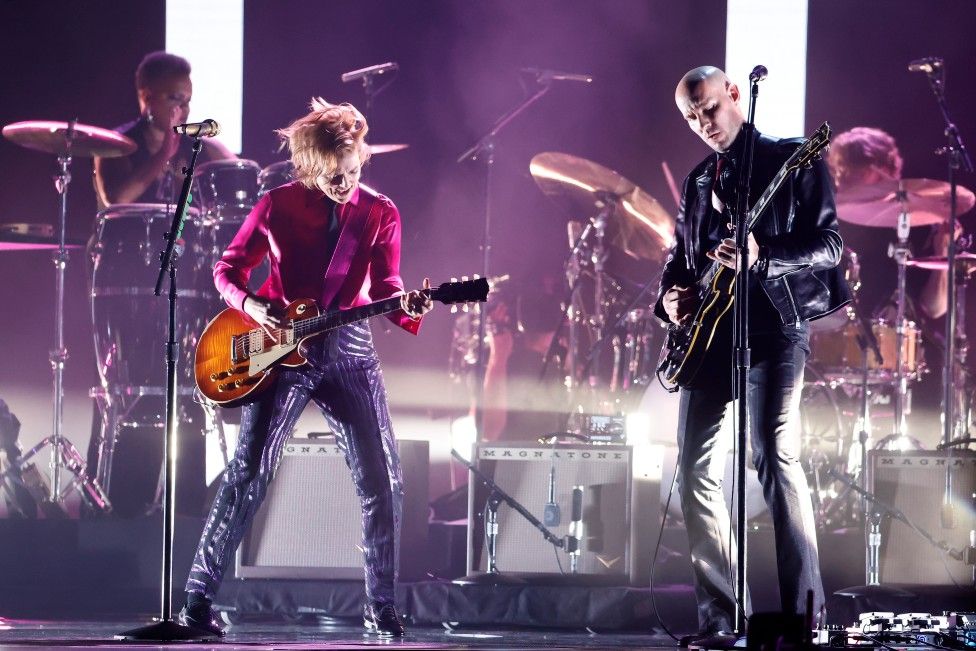 Earlier in the evening, at the "premiere" show before the main event, folk rocker Brandi Carlile scored three awards.
"Oh my God, this is amazing. Oh, I'll never be the same," she said on stage. "I cut my hair and I learned how to scream and I just won a Grammy for a rock and roll song!"
She went on to rock out at the main show.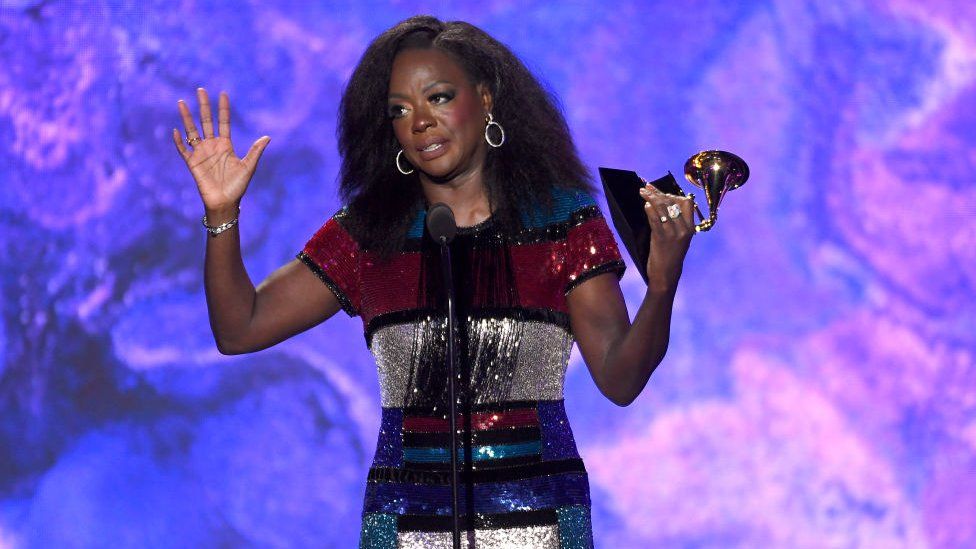 Also during the premiere ceremony, actress Viola Davis became the 18th person to achieve the EGOT – winning an Emmy, Grammy, Oscar and Tony Award.
Davis completed her collection by winning best audio book for her autobiography Finding Me.
"I wrote this book to honour the six-year-old Viola," said the star. "To honour her life, her joy, her trauma, everything."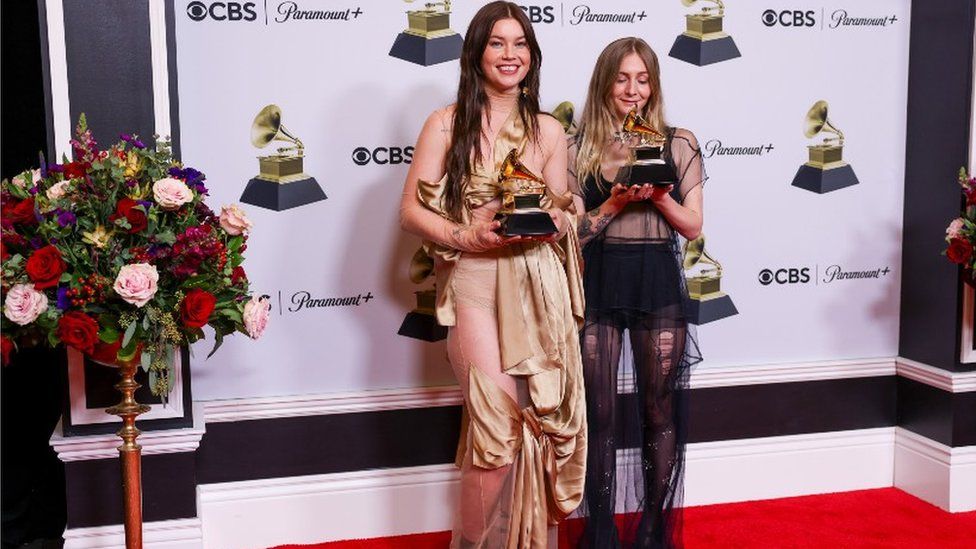 Isle of Wight indie duo Wet Leg, meanwhile, swept the board with the alternative music categories, but ultimately lost out to Samara Joy for the best new artist prize.
"This is so funny, thank you so much. What are we doing here? I don't know," shrugged singer and guitarist Rhian Teasdale, while accepting their first award. "But here we are."
Follow us on Facebook, on Twitter @BBCNewsEnts. If you have a story suggestion email entertainment.news@bbc.co.uk.