Paul O'Grady: How Lily Savage defied police who raided a pub with rubber gloves
Paul O'Grady, who has died at the age of 67, became a star for his comedy and presenting – not to mention his love of dogs. But one pre-fame story shows his role in fighting for LGBT rights.
O'Grady was preparing to go on stage as his drag alter ego Lily Savage at the Royal Vauxhall Tavern in south London one Saturday night in January 1987, when a police officer burst into his dressing room.
At first, he thought it was a male stripper. But it was the real thing.
"He was so rude and so aggressive," O'Grady later recalled. "When I came out on the stage, the place was heaving [with police] and they were all wearing rubber gloves.
"And of course I said, 'oh good, have you come to do the washing up?'"
What might have seemed like a throwaway line has gone down in history as an example of deadpan defiance in the face of suspicion and often hostility towards gay people.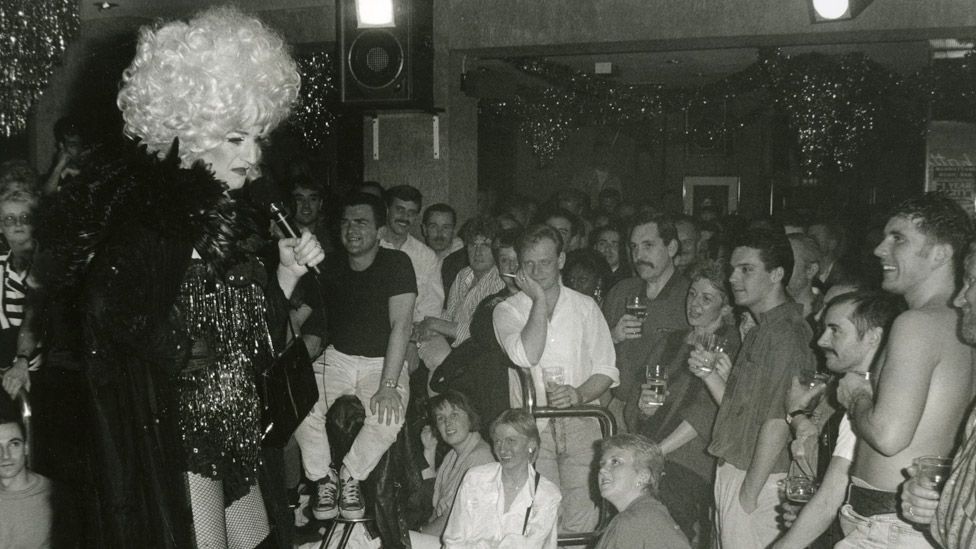 "This is a time when HIV was rampant, and the police had the bigoted view that if you touched a gay man, you'd get HIV," campaigner Peter Tatchell told BBC Radio 4 on Wednesday.
Around that time, newspapers were warning about the use of amyl nitrite, also known as poppers. It was described in the Sunday Telegraph as "the new danger drug in the pub, as easy to buy as crisps", which could make "users more vulnerable to the killer Aids virus".
It wasn't illegal, and the suggestion it made people more vulnerable to Aids had already been debunked. But in December 1986, the Metropolitan Police raided the Royal Vauxhall Tavern, a long-standing gay pub, and confiscated 22 bottles as a "noxious substance".
The following month, 35 officers returned – with their rubber gloves.
"It was pandemonium," said O'Grady, who was a fixture at the venue for eight years. "People were scared. Tables and chairs were going over. The police were extremely aggressive.
"I went upstairs to Breda, the landlady, to tell her – and the next thing, there's a load of coppers in the front room dragging her out, leaving the children behind. God knows to this day why they raided it."
Skip twitter post by Royal Vauxhall Tavern
Allow Twitter content?
This article contains content provided by Twitter. We ask for your permission before anything is loaded, as they may be using cookies and other technologies. You may want to read Twitter's cookie policy and privacy policy before accepting. To view this content choose 'accept and continue'.
The BBC is not responsible for the content of external sites.
He said he could only put it down to police homophobia, with the Aids pandemic giving them "the perfect excuse for them all to come in and cause trouble".
"Funnily enough that week, I went up to Manchester and worked another club, and there was another raid the same week. So it seemed to be the fashion at the time," he said.
O'Grady told the Observer he was carried out of the Vauxhall Tavern "saloon girl-style, kicking and screaming". Eleven people were arrested and two customers were injured.
O'Grady was reportedly among those arrested. According to one version of events, when the desk sergeant asked for a name, he gave it as "Lily Savage". When the officer asked for a "real" name, he replied: "Lily Veronica Mae Savage."
Skip twitter post 2 by Myra DuBois
Allow Twitter content?
This article contains content provided by Twitter. We ask for your permission before anything is loaded, as they may be using cookies and other technologies. You may want to read Twitter's cookie policy and privacy policy before accepting. To view this content choose 'accept and continue'.
The BBC is not responsible for the content of external sites.
According to the National Archives, police wanted to strip the venue of its late-night licence by gathering evidence of drunkenness, "lewd conduct" or going over the capacity of its licence.
But no complaints of drunkenness had been made by local residents, and indeed the licence was renewed the following month.
The raid sparked a backlash from the LGBT community and landlords of other gay pubs, while the Campaign for Homosexual Equality wrote to the home secretary to say they were worried "that some officers of the Metropolitan Police are embarking on a deliberate policy of harassment of gay pubs".
The local MP even got involved, asking the home secretary about the number of officers involved, the cost, and "the grounds on which protective clothing was worn by officers".
The reply from a junior minister came that the raid was a "routine operation".
Disposable gloves were used "to protect officers from the risk of infection by Hepatitis B or Aids as a result of accidental injury from any drugs paraphernalia which might have been found on individuals searched during the operation", he said.
O'Grady's small act of resistance was one reason why he was held up as a hero by many in the LGBT community.
Tatchell said: "He began in gay clubs and bars at a time when social homophobia was at its height… this was an ugly, dangerous and very unpleasant time for LGBT+ people."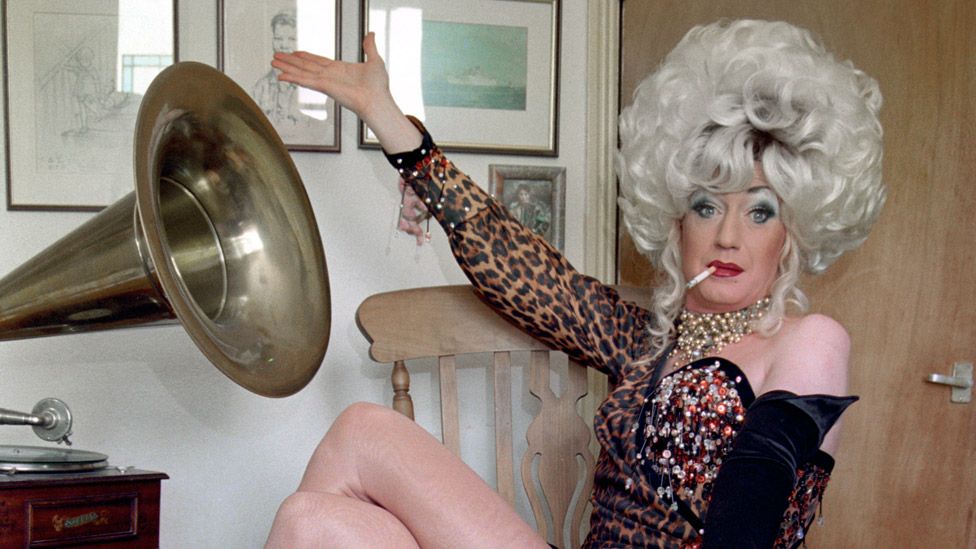 O'Grady was "fierce in his beliefs and principles", he added.
"He was a fierce opponent of the Thatcher government over its attacks upon the LGBT+ community, particularly Section 28, and he was appalled by the levels of police harassment that were still going on right through the 1990s."
O'Grady was a patron of Tatchell's foundation and was planning to lead its forthcoming campaign for the police to apologise for their historic persecution of the LGBT+ community, the campaigner said.
Stephen Richards, a drag queen from that era who performs as Lola Lasagne, told BBC London: "Lily was one of those people who just went, 'No, I'm not having it', and and stood there and fought for us.
"As we all know, we eventually moved through those times… but it's down to people like Lily and Paul who made that possible, certainly in our scene.
"The entire nation today is mourning because of For the Love of Dogs, the chat show, the radio show, everything.
"But for our community, we've lost one of our own, and one of our originals, and we owe him a lot."