Rebekah Vardy trademarks the phrase Wagatha Christie
Rebekah Vardy trademarked the phrase "Wagatha Christie" after losing her libel case against Coleen Rooney.
Vardy unsuccessfully sued Rooney at the High Court last year for claiming to have deduced that Vardy had been leaking stories about her to the press.
The case was dubbed Wagatha Christie – a reference to both women as wives and girlfriends (Wags) of footballers, and mystery author Agatha Christie.
Vardy didn't come up with the pun – comedian Dan Atkinson claimed he did.
The phrase was registered for trademark in the UK in August, through the company London Entertainment Inc Ltd, and it covers everything from broadcasting to beauty lotions, as well as jewellery, stationery and fashion design.
The move could go some way to paying Vardy's legal costs from the trial. In October, it was reported that she had been ordered to pay 90% of Rooney's legal fees, expected to equate to £1.5m.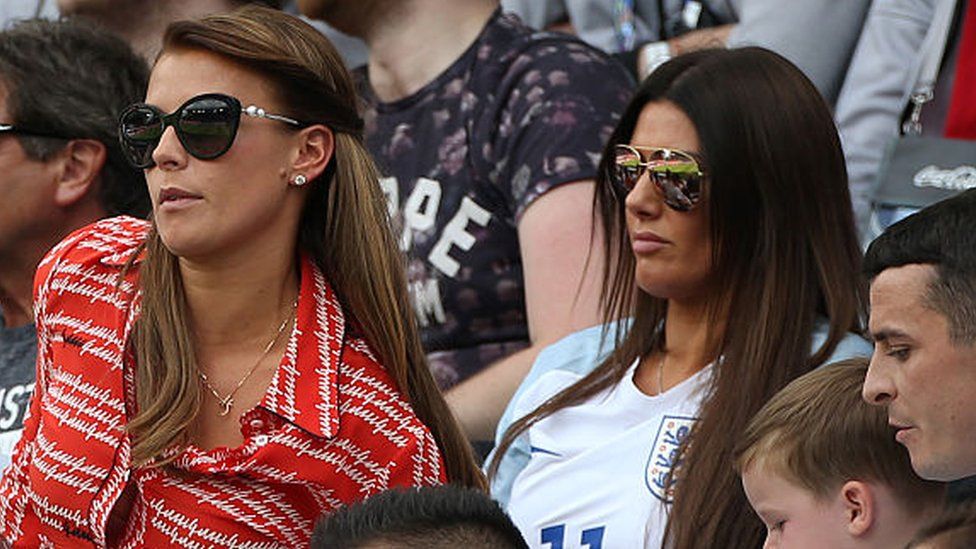 The case arose after Rooney conducted a sting operation to discover the source of leaks about her and her family, before dramatically accusing Vardy on social media.
Vardy denied the accusation, and filed legal proceedings – but in July, a judge ruled that Rooney's accusation was "substantially true".
Since the case concluded in July 2022, the story around it has been told in a BBC TV documentary, a Channel 4 drama and even a West End play.
The trademark means anyone wishing to use the Wagatha Christie phrase commercially in this country will have to get Vardy's permission and pay her.
Intellectual property lawyer Elizabeth Ward told BBC News that Vardy did not have to have originated the phrase in order to trademark it.
She felt Rooney was more "savvy" and "shrewd" during the trial to associate herself with a high street clothing label, as opposed to the designer labels worn by Vardy; and said the trademarking move could be a chance for the latter to "make some money" back by appearing to see the funny side on a range of more everyday items.
"I wonder if, now, Rebekah Vardy is thinking of some humour branding association with Wagatha Christie," Ms Ward said. "Looking at the classification, she's going for things like a make-up brand, make-up brushes and all the rest of it – those kinds of domestic household items."
However, the application to trademark the phrase for use on certain clothing and household items appears to have been denied, with opposition coming from Welspun UK Limited, which owns towel and bedding brand Christy.