Marvel: Sir Anthony Hopkins says Thor role was 'pointless acting'
Sir Anthony Hopkins has described his work in Marvel's Thor films as "pointless acting".
The Port Talbot-born star joined the cast of Thor, Kenneth Branagh's film version of the Marvel comic in 2011.
He played Odin, the father of the titular character, and also appeared in 2013's Thor: The Dark World and 2017's Thor: Ragnarok.
"If you're sitting in front of a green screen, it's pointless acting it," Sir Anthony told the New Yorker.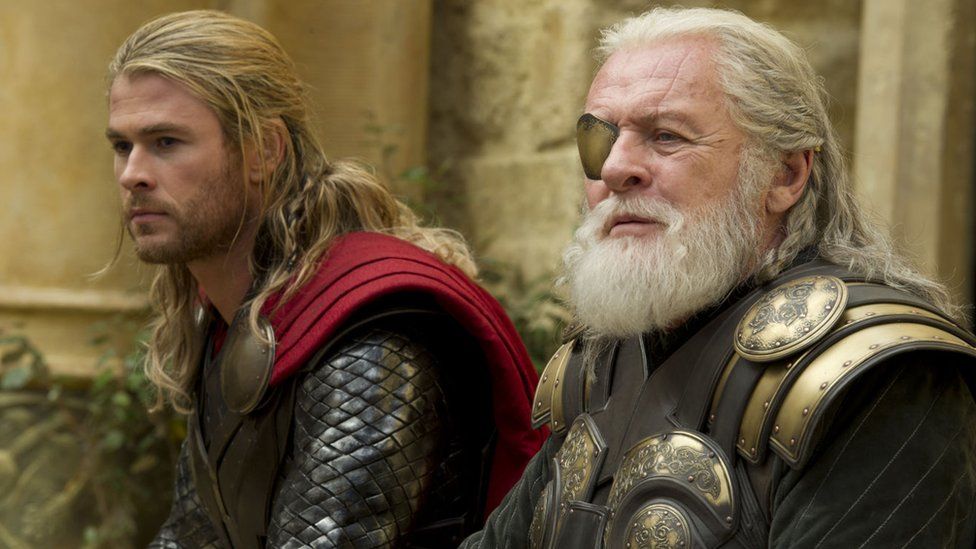 "They put me in armour; they shoved a beard on me," he told the magazine.
"Sit on the throne, shout a bit."
Sir Anthony made history in 2021 by becoming the oldest person to win an Academy Award for acting, winning a second Oscar for his role as a man with dementia in The Father.
The 85-year old actor's portrayal of villain Hannibal Lecter in Silence of the Lambs won him his first Oscar in 1992.
The star graduated from Cardiff's Royal Welsh College of Music and Drama in 1957 and found fame after being spotted by Laurence Olivier and joining the Royal National Theatre.
Meanwhile his Thor co-star Chris Hemsworth told GQ magazine he loved the experience of making Thor movies, but joked he got sick of the character pretty quickly every couple of years.
"I love the fact that I've been able to do something fairly different throughout the process. Thor 1 and 2 were their own thing, Thor 3 and 4 were a very different feel," he said.
He told the magazine he was open to returning to Thor, "seeing what they have to offer creatively, if there is something new" for the character.
"But I really wanna do some other stuff for a while," the Australian said.
Related Internet Links
The BBC is not responsible for the content of external sites.