Prince Harry has taken the stand — and he's the first royal to do so in over a century!
On Tuesday, the Duke of Sussex arrived at the High Court of Royal Courts of Justice in London to testify against Mirror Group Newspapers. As we covered, he was supposed to be there for the first day on Monday by was a no-show due to staying home to celebrate his daughter Princess Lilibet's second birthday on Sunday. He was seen arriving with his attorney at the Rolls Building ahead of the trial and once inside the courtroom, he had NO problem slamming the British press! He said:
"Our country is judged globally by the state of our press and government – both of which I believe are at rock bottom."
Oof…
Related: Princess Eugenie Welcomes Baby #2! See His Name & First Pics HERE!
He continued:
"Democracy fails when your press fails to scrutinize and hold the government accountable, and instead choose to get in bed with them so they can ensure the status quo."
Harry has accused the Daily Mirror of obtaining information about him through unlawful methods, such as phone hacking, for 33 of 150 stories it published between 1995 and 2011. He said in a witness statement released on Tuesday:
"Tabloids would routinely publish articles about me that were often wrong but interspersed with snippets of truth, which I now think were most likely gleaned from voicemail interception and/or unlawful information gathering."
MGN has denied doing such a thing, but has apologized for one instance in which they hired a private investigator for a story. Referencing his late mother Princess Diana, the Invictus Games founder went on:
"How much more blood will stain [journalists'] typing fingers before someone can put a stop to this madness? I've always heard people refer to my mother as paranoid, but she wasn't. She was fearful of what was actually happening to her and now I know I was the same."
The 38-year-old claimed the articles written about him played a "destructive role" in his childhood and adolescence, but he didn't provide specific examples "because it's 20 years ago, I can't speculate," he explained via CNN. To prove his point, though, he went on to share how the press about him would often affect his relationships, saying per BBC:
"Whenever I got into a relationship, they were very keen to report the details but would then, very quickly, seek to try and break it up by putting as much strain on it and creating as much distrust as humanly possible. I simply don't understand (and never have) how the inner, private details of my relationships … could have anything to do with the well-being of society or the running of the country and therefore be in the public interest."
In his witness statement, he noted the tabloid's stories and alleged phone hacking took a toll on him, he wrote:
"I genuinely feel that in every relationship that I've ever had — be that with friends, girlfriends, with family or with the army, there's always been a third party involved, namely the tabloid press. Having seen me grow up from a baby (being born into this 'contractual relationship' without any choice) and scrutinised my every move, the tabloids have known the challenges and mental health struggles that I have had to deal with throughout my childhood and adult life and for them to then play on that and use it to their own advantage, I think is, well, criminal."
As for why he believed phone hacking had occurred, he recalled lots of unusual phone activity he had become accustomed to, writing:
"I wouldn't go into my voicemail unless the little envelope symbol flashed up on my phone signaling to me that I had a new message. Sometimes this symbol would vanish before I had a chance to listen to the voicemail."
While taking the stand, he added:
"I remember on multiple occasions hearing a voicemail for the first time that wasn't new – I would simply put it down to perhaps a technical glitch … or even just having too many drinks the night before and having forgotten that I'd listened to it. I also distinctly remember people saying to me 'did you not get my voicemail?' I was like, 'no', and sometimes I would go back into my voicemail to look for it but still couldn't find it."
He also noted his phone was his "main means of communicating" with his family, especially his late mother:
"My voicemails would include incredibly private and sensitive information about my relationships, my operational security and that of my family [and in later years] my work both in the Army and as a senior member of the Royal Family. […] I now realize that my acute paranoia of being constantly under surveillance was not misplaced after all."
The Archewell founder also called out Piers Morgan, who was the editor of the Daily Mirror at the time of the allegations, declaring:
"The thought of Piers Morgan and his band of journalists earwigging into my mother's private and sensitive messages … makes me feel physically sick and even more determined to hold those responsible, including Mr. Morgan, accountable for their vile and entirely unjustified behavior."
Meghan Markle's husband continued:
"I would say their actions affected every area of my life. It created a huge amount of paranoia in my relationships. I would become immediately suspicious of anyone that was named in a story about me, whether it was [confidantes] Mark Dyer, Tiggy [Harry and his brother Prince William's former nanny Alexandra Shân 'Tiggy' Pettifer] or her brother, Harry [Legge-Bourke], for example."
Elsewhere in his statement, Harry noted a situation with his former girlfriend Chelsy Davy that he now realizes was a good indicator someone had hacked his information. Recalling a time he went to pick her up at the airport, he shared:
"I walked into the arrivals hall with a baseball cap on and immediately spotted five separate paparazzi sitting on benches with cameras in bags, their hands inside rucksacks and everyone else looking at me. I recall thinking, 'How on earth did they know I was going to be there?' but now it's obvious."
This information gathering also impacted his relationship with his father King Charles III and his brother Prince William. On Monday, Harry's lawyer David Sherborne claimed the brothers' relationship started to "erode" because of the alleged unlawful information gathering, leading to a lot of "mistrust" between Harry and William dating as far back as 2003 when MGN published a story about an alleged disagreement between them.
Related: Did Prince Andrew LIE About Ending Friendship With Jeffrey Epstein?!
Per the attorney, the article in question centered on a reported argument between the siblings as they debated whether to meet former royal butler, Paul Burrell, who was publicly accused of betraying their mother. We already know the brothers have a strained relationship as it is — it would stink if the press made it all worse!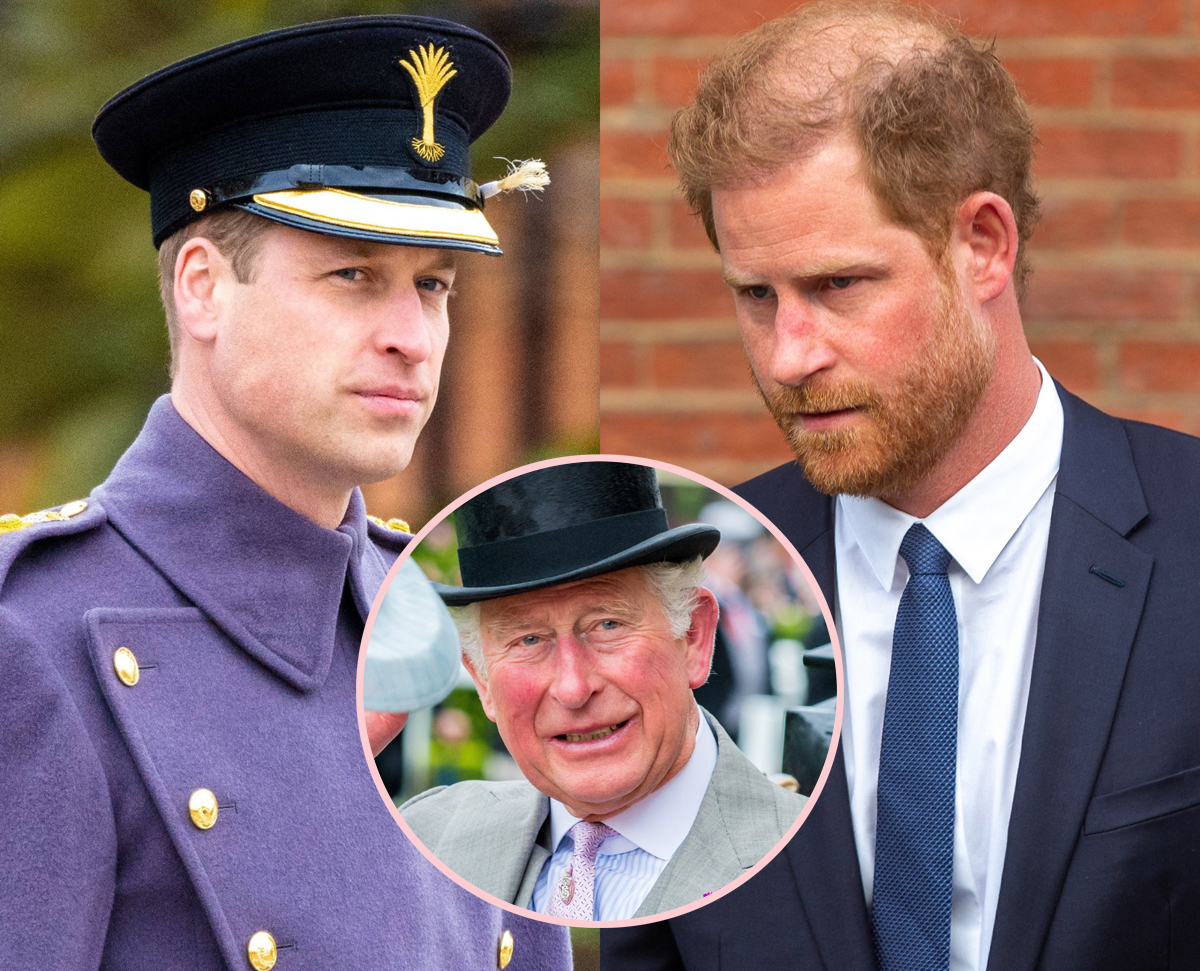 While Harry may be glad to finally get his time in court, his family likely isn't so thrilled. A highly placed palace source told Page Six the royal family will be "privately bracing themselves" throughout the trial, noting:
"Harry would see himself as fighting their battle too, to protect the reputation of the monarchy. But certainly, they [the royal family] avoid confrontation with the media in most instances. And litigation is so lengthy, stressful and unpredictable, not to mention expensive. You just have no idea what direction the other side is going to go in on, and what they will dredge up."
The royal family will likely be a big part of the case considering lawyer Andrew Green, representing the publisher, already alleged many of the stories published about the father of two "came from information disclosed by or on behalf of royal households or members of the royal family." The insider mused:
"There's a damn good reason why the royal family should feel uncomfortable about this."
Wow!
And this is just the first day of testimony! We're sure there's a lot more to come… Thoughts so far? Do you think Harry will be victorious? Let us know (below)!